Adventures in Unconventional Propeller Flight
The Austrian D-Dalus design is meant to be the "hummingbird" of this class of unconventional rotor designs. Think of how maneuverable a hummingbird can fly, while still achieving a very high top speed.
The D-Dalus has the potential to be the "special ops" platform of choice for rapid insertions, extractions, and quick stealthy near ground-level attacks.
A flying machine with no airfoil, rotor or jet propulsion can travel where most cannot: in very tight spaces and through terrible weather.

ROTOR ASSEMBLIES

The craft's four rotors spin at 2,200 rpm, and six blades attached to carbon-fiber disks create directional thrust. The blades act as mini airfoils, their angle of attack constantly shifting in relation to rotation. For vertical lift, a blade's leading edge rises away from the center of the disk at the top of its rotation and toward the center of the disk at the bottom [pictured], creating a pressure differential.

FRICTIONLESS BEARINGS

Existing bearings were unable to withstand 1,000 Gs of force between the carbon-fiber disks and their blades and still deliver some degree of maneuverability. Engineers at IAT21 developed their own bearings, shaped like metal barrels, that hold up to the force better than spheres (think: arches) but can still roll enough for the blades to move. _Popsci
The Fanwing, seen below, is more of a slow semi-hovering craft, meant to linger overhead for extended periods of observational time. Fanwing is more of a recon aircraft.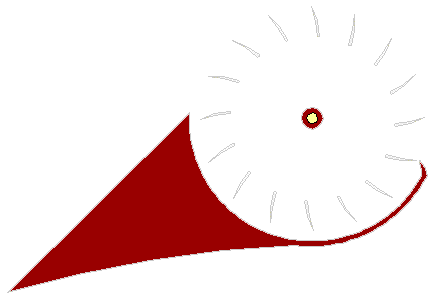 Fanwing Simulation
The cycloidal drive propeller below was taken from an earlier marine drive -- used for tugboats and other highly maneuverable water craft.
When applied to a flying craft, the cycloidal drive has the potential to function as either a helicopter replacement, or as a drive for a larger airship or "blimp."
Cycloidal Drive Simulation
The Voith Schneider propeller (VSP), also known as a cycloidal drive (CD) is a specialized marine propulsion system (MPS). It is highly maneuverable, being able to change the direction of its thrust almost instantaneously. It is widely used on tugs and ferries.

From a circular plate, rotating around a vertical axis, a circular array of vertical blades (in the shape of hydrofoils) protrude out of the bottom of the ship. Each blade can rotate itself around a vertical axis. The internal gear changes the angle of attack of the blades in sync with the rotation of the plate, so that each blade can provide thrust in any direction, very similar to the collective and cyclic of helicopter flight controls. _ngcraft
Labels: adventure toys